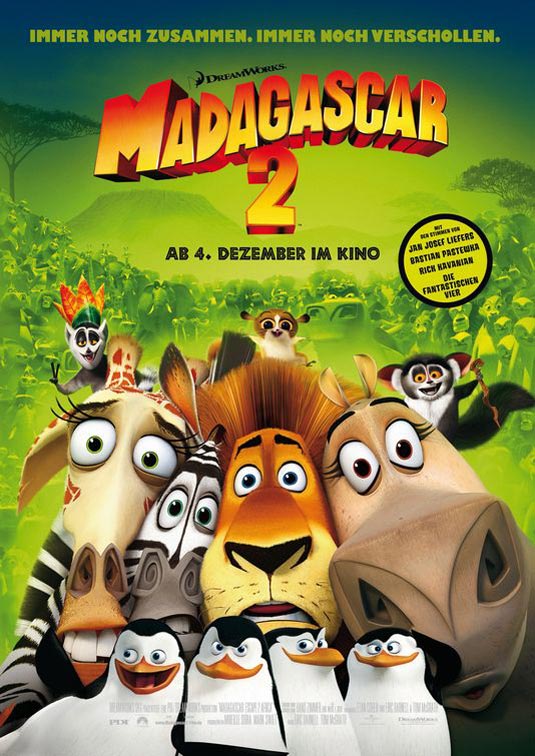 MADAGASCAR 2
Directors:
Eric Darnell, Tom McGrath
Writers:
Eric Darnell, Tom McGrath, and 1 more credit »
Stars:
Ben Stiller, Chris Rock and David Schwimmer
|
DreamWorks Animation seized an opportunity to add another chapter to a previous hit. While there are countless mindsets to take when reviewing a movie, for me, mainstream animated films are best measured against two yardsticks: does it deliver for the target audience of kids and is there enough to keep the parents' attention?
For Madagascar: Escape 2 Africa, the answer for both of these questions is affirmative. For their first animated sequel that wasn't part of Shrek marketing machine, DreamWorks didn't monkey with the formula that made the first one successful, despite a title wasn't inherently easy for its audience to say. (It is referred to as "the Alex the lion" movie in my house.)

Madagascar: Escape 2 Africa begins with a retelling of how a young cub Alex ended up in New York. Alex's father, Zuba (voiced by the late Bernie Mac), is the alpha lion of an animal reserve in Africa. He is trying to teach his son how be a fighter. Fittingly, Alex is more inclined to dance, perform and entertain, which makes him famous at the zoo. While Zuba is fighting a lion rival, Makunga, cub Alex is lured off the reserve by hunters. During an effectively exciting but too brief chase by Zuba, Alex's crate falls off the hunters' truck into a river and floats to New York, where is adopted by the zoo. This introductory sequence sets the stage for the telegraphed reunion with his parents and introduces the film's primary bad guy, Makunga, voiced with smarminess by Alec Baldwin with a jet black pompadour of a mane, or what counts as a villain in this film.

After a newsreel recap of how the main characters ended up in Madagascar, the sequel picks up where the first concluded with Alex (Ben Stiller), Marty the zebra (Chris Rock), Gloria the hippo (Jada Pinkett Smith) and Melman the giraffe (David Schwimmer) still stranded but attempting to fly home on the repaired plane the lemurs lived in. As expected, two of the most memorable (for better or worse depending upon your age) elements of the first film are predictably present: the ubiquitous "I Like to Move It" song and the militaristic quartet of penguins. As expected, the filmmakers use the song within the first ten minutes, sung by the four friends as they prepare to leave the island.

Unsurprisingly for a plane repaired by penguins and lemurs with wood and twine, the flight doesn't quite make it to North America but succeeds in crashing on the African mainland. While the penguins fix the plane with the help of a soon-to-be unionized workforce of chimpanzees, Alex and company end up in the very place ruled by Alex's dad. For a movie that clocks in just under 90 minutes, there is a ton of plot to go around for each of the four characters. The central story is for Alex to be reunited with his family and then be accepted for who he is, which is an entertainer and not a fighter. This point is driven home regularly as Alex gets beat up in slapstick fashion on a couple of occasions. Due to the manipulation of Makunga, Alex and Zuba's reunion is short-lived. Overall, this story plays like a less violent and emotional variation on the Lion King's story of a prodigal son returning. The stakes aren't as grand for Alex and Zuba compared to Simba, which proves that the filmmakers were focusing on making a lighthearted comedy and not a message film.
341.2 MB
Note: This is a torrent file.